Penetrating Damp:
Penetrating damp can occur above or below ground level. In the latter case water in the high ground penetrates the room causing deterioration of the finish, and sometimes even flooding. This usually prevents the room being used for any other purpose but storage. However, basements and cellars can be readily made habitable and therefore provide a useful extra low-cost addition to the property.
Realcure's solution:
Our first task is to determine the use to which the room is going to be put; this will determine the type of waterproofing ('tanking') system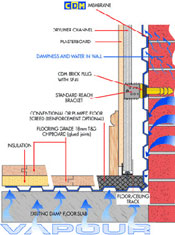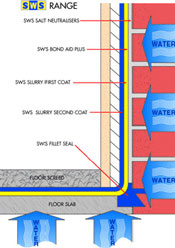 to be used, and very important, what action will need to be taken to maintain the environment suitable for the purpose for which the room is intended. Realcure employ two basic methods of waterproofing; cavity drain membranes (right), and cementitious based systems (left). Each has its own merits, and the system used will depend on the structure and the requirements to which the room is going to be put. Essentially we will provide a habitable room, which will be a beneficial addition to the usable space within the property.
All our specialist waterproofing work is covered by our comprehensive 10 year guarantee.