Wood boring insects:

'Woodworm' is a generic term to cover all wood boring insects. However, in the United Kingdom this term effectively reflects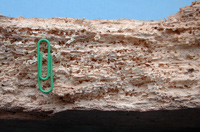 damage caused by the Common Furniture beetle,
Anobium punctatum.
The most widespread attacks by Furniture beetle are found generally in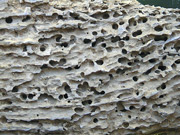 roof spaces and subfloor timbers. The larvae (grubs) cause the damage, feeding in the sapwood of softwoods and European hardwoods. After two to four years of activity the larvae change into adult beetles within the wood and emerge leaving typical 'woodworm' holes. Occasionally other wood borers may be found, for example, Deathwatch beetle in historic timbers, Powder Post beetles in newly laid oak floors and around south-east London, the House Longhorn beetle. However, some 'woodworm' damage is caused in the forest and was present before timbers were introduced into the property. Such insects are highly unlikely to be active in seasoned timber; in such cases no treatment is required.
Realcure's solution:
First we determine which insect is causing the damage, is it active or not or the possibility of its being previous damage by a 'forest' wood boring insect (inocuous). Where activity is established we will clean and treat active areas with a very low hazard, low odour timber preservative to control the infestation, any structurally weakened timbers having been previously removed. Where other active woodborer infestations are encountered, e.g. Deathwatch beetle, etc., then we will modify our approach, treatment and preservatives accordingly.