Wet Rot:
Wet rot or rather wet 'rots' is the name given to all wood rots that are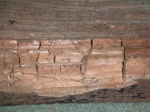 not dry rot. In general terms wet rots are restricted to the wood and do not have the ability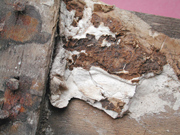 to invade and spread across damp substrates like dry rot. Wet rots therefore tend to be very much more restricted in their distribution. A nevertheless like dry rot they require water to become initiated, grow and survive.
Realcure's solution:
As with dry rot our primary task is to find and eliminate the source of water causing the rot.
Severely rotted wood will be replaced with pre-treated timber, and other timbers will be isolated and protected from further dampness/rot in accordance with good building practice. As with dry rot we will, where possible, retain as much of the original structure as possible to maintain the character of the property and minimise costs. We may also use targeted chemical treatment to afford further protection of timbers.